I have been procrastinating about making a peg bag for ages. I knew I wanted to make one myself, but had very specific requirements in my head... not made with a hanger, easy to take on/off the washing line, something that I could stick in the washing machine... decisions, decisions!!
So when I saw this fab tutorial by
Diary of a Quilter
, it was exactly what I needed to spur me into action and
finally
make this Drawstring Peg Beg!
Here's how I made my version....
I started with a piece of fabric 19"x16", turned over the top half inch and sewed in place (so there were no rough edges at the top). The fabric was one I found in a charity shop (where else?!) and is not really my usual taste but seemed a good match to go in the garden!
Next I folded the fabric in half (right sides together) and sewed along the bottom and side - stopping about 4inches from the top edge.
I pressed open the bottom and side seams open, including the top 4 inches which weren't sewn. Then carefully sewed down the open seams by going down, across and then up (in a sort of U shape).
To make the casing, I folded down the top by 2" and ironed in place. To fix, I stitched along the bottom and top edges of this section.
I thought a boxed bottom would work well, so matched up the bottom and side seams then sewed a line across 1" from the point (repeating on both sides).
Getting to this point of making the bag didn't take too long.... but then I got stuck on what type of drawstring I wanted to use (more decisions!). None of the different cords/ribbons I tried looked right, so I
finally
decided to make one from the same fabric.
I made it in the same way as the handles on my
Canvas Tote Bag
i.e. folding the edges in the middle, folding again and sewing together. I used a piece 36" long and 1.5" wide.
Once the drawstring was threaded through and the bag given a good press, I finally had a finished peg bag!!
I've tied it onto the washing line so that I can pull it along with me as I hang up the clothes. Then in theory I can untie it and store indoors.... in reality I'll probably leave it out in all weathers and just wash it if I need to!
I'm really pleased with the way this turned out and can't believe I waited so long to do it! Of course these bags could be used for loads of different purposes and are pretty quick and easy to make. What would you use yours for?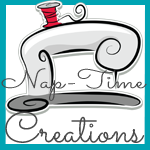 16th Sept 2014
: Update - this post was featured
here
by craftgawker